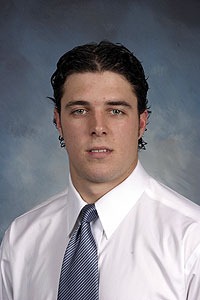 5
Steve Crusco (C)
Senior • Forward
5-10 • 185 • 6/30/1982
Waltham, Mass.
Valley Junior Warriors

2003-2004:
2002-2003: Played in 22 games for the Warriors but severe wrist injury kept him out of the lineup for 14 games...Combined with Bryan Schmidt versus Holy Cross (Jan. 24) to tie school record for fastest consecutive goals (0:06) set in 1991 by Brendan Locke and Quentin Fendelet vs. Maine... Scored game-winning goal and added an assist in first Hockey East win and first win of the season against Boston University (Oct. 22)...Returned to lineup after injury to post two assists versus UMass (Jan. 10)...Pair of goals including the game-winner versus Northeastern (Feb. 7)...Racked up goal and an assist in 6-1 win over Boston College (Feb. 15)...Scored against Michigan (Oct. 18) and Holy Cross (Jan. 24)...Recorded a single assist against New Hampshire (Feb. 19) and Mass.-Lowell (Feb. 25).
2001-2002: Worked way into lineup appearing in 20 games...First collegiate goal was game-winner in overtime against UMass (Jan. 12)... Scored goal against UMass Lowell (Feb. 3)... Had one assist in playoff game versus UNH (Feb. 9).
High School/Last Team: Competed for Arlington Catholic where he was a Catholic Central All-Star and MVP... Hockey Night in Boston Offensive Player of the Year... Boston Globe and Boston Herald All-Scholastic.
Steve Crusco: Career Statistics

           OVERALL                      HOCKEY EAST
YEAR       GP   G   A  PTS  PEN/MIN ||   GP   G   A  PTS  PEN/MIN
2001-2002  20   2   1    3    0/0   ||   17   2   0    2    0/0
2002-2003  22   6   6   12    5/10  ||   15   4   6   10    3/6
2003-2004  36  10   6   16    7/14  ||   24   6   4   10    4/8
-----------------------------------------------------------------
TOTALS     78  18  13   31   12/24  ||   56  12  10   22    7/14