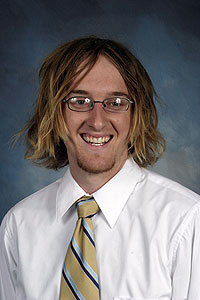 29
Casey Guenther
Senior • Goaltender
6-0 • 163 • 9/23/1981
Boissevain, Man.
South Surrey Eagles

2003-2004:
2002-2003: Earned spot on Hockey East All-Academic Honor Roll becoming the eighth Merrimack goaltender to make the list...Appeared in first eight games of his career...Made first appearance and first save versus Boston College (Nov. 7) in relief duty...Made 31 saves in first start vs Nebraska-Omaha (Nov. 30)...One of the four goaltenders out of the last five to puck up 30 or more saves in his first start...Picked up first win of his career in his first home start stopping 18 shots against Holy Cross (Jan. 24)...Made only start versus a Hockey East opponent in the Hockey East Quarterfinals making 27 saves in a 2-1 loss to Boston College (March 8).
2001-2002: Gained experience working with veteran goaltenders Joe Exter and Jason Wolfe...Did not play in any games.
High School/Last Team: Played for the South Surrey Eagles and the LaRonge Ice Wolves of the Saskatchewan Junior League...Attended Boissevain High School...Honor Roll student.
Casey Guenther: Career Statistics

           OVERALL
YEAR       GP    MIN     GA   GAA   SVS   SV%  SO   W-L-T
2001-2002   0     0:00    0  0.00     0  .000   0   0-0-0
2002-2003   9   229:33   17  4.44   100  .855   0   1-2-0
2003-2004  22  1124:49   59  3.15   481  .891   1   5-11-3
----------------------------------------------------------
TOTALS     31  1354:22   76  3.37   581  .884   1   6-13-3

           HOCKEY EAST
YEAR       GP    MIN     GA   GAA   SVS   SV%  SO   W-L-T
2001-2002   0     0:00    0  0.00     0  .000   0   0-0-0
2002-2003   4    43:46    5  6.85    22  .815   0   0-0-0
2003-2004  15   707:39   38  3.22   345  .901   1   2-7-3
----------------------------------------------------------
TOTALS     19   751:25   43  3.43   367  .895   1   2-7-3